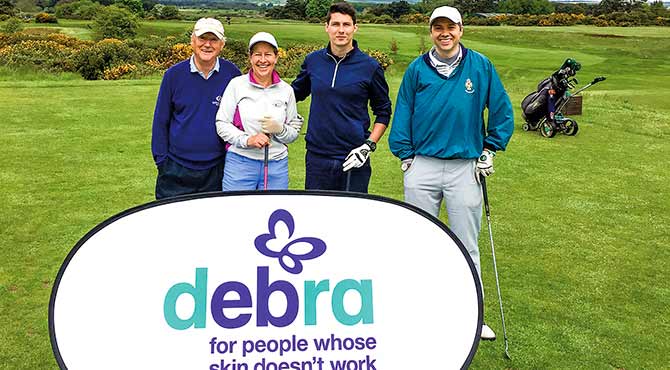 DEBRA golf society a 'lifeline' for families
The charity helps those suffering from potentially fatal skin condition EpidermolysisBullosa (EB)
Living a life free of pain – this is the wish of those suffering from EpidermolysisBullosa (EB), a potentially fatal skin condition that causes constant pain due to unstoppable internal and external blistering.
There is currently no cure. DEBRA, the national charity supporting people living with EB, provides lifelong care and support to the EB community and funds research into effective treatments, and ultimately, a cure.
If you like golf and love helping people, the DEBRA golf society is for you. The society is free to join. It currently has more than 2,000 members, including vice-president Steve Rider, above right, and a fantastic schedule of events.
Whether you want to participate with a team, on your own, or entertain clients, DEBRA charity golf provides a friendly day out for all.
In 2018, DEBRA is visiting the likes of Hankley Common, St George's Hill, Archerfield Links, Bearwood Lakes, Swinley Forest, Woburn and The Berkshire, to name but a few.
The DEBRA golf society helps fight EB, with money raised improving the quality of life for people suffering from the condition and helping to bring the charity closer to finding a cure.
But what exactly is EB? Well, it's more than what you see. It causes lifelong disability and pain, with blisters continuously forming and needing drained and dressed daily – a painful process that can take several hours.
Nick and Jenna Algate's son, Freddie, right, has EB. "Every day is a struggle for us," said Nick. "Freddie turned our world upside down and inside out when he was born and DEBRA has been our lifeline.
"When we moved house, they provided soft carpet which wouldn't blister Freddie's delicate skin, and a member of the DEBRA community support team visits us at home to make sure we have all the support we need. We wouldn't have been able to cope without them."
For Nick, joining the DEBRA golf society was a way to make a difference for his son and raise awareness of EB in the process.
If you're interested in joining the DEBRA golf society, please email golf@debra.org.uk.
Golf Societies Article List
How to Celebrate your Society Outing in Style
What Board to Choose When Going on a Golfing Holiday With Your Society
Hints + Tips - To make your society outing go smoothly
Get yourself protected with specialist golf insurance
The Process of Booking a Golf Breaks