Golf Societies Articles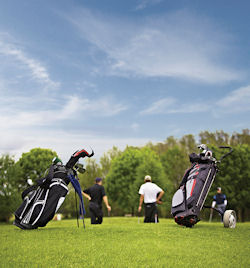 Plan your Golf Societies Trip
Step 1 - Organising a trip for a large group of people is a lot of work and is easy to get badly wrong, particularly if there are too many people trying to take control. So, you need to nominate one person within your group to be the main point of contact. You want everything to go as smoothly and as fluidly as possible, so pick a responsible and organised person. It will be their job to email everyone as early as possible to get the ball rolling in the most efficient and ordered way they can. Read more
How to Celebrate your Society Outing in Style
Hire the Pro - Clinics with PGA professionals are popular during corporate golf days so why not make use of the club pro during your society break and organise a clinic? The pro can either offer a group lesson (depending on the size of your group) or simply run through a variety of tips that might help some of the players in your crowd. Some PGA pros also provide trick shot shows, however you can also hire a trick shot master for your society day - that's always a fun way to start your weekend. You should expect to pay anywhere between £500 and £1,000 for the services of a trick shot specialist. Prices for a group lesson with a PGA pro can vary. Read more
What Board to Choose When Going on a Golfing Holiday With Your Society
Once you have picked your location and decided where you are going to play golf and how many rounds you will play the next most important point to consider is what food and beverage package you are going to have. The last five or six years have seen a massive increase in the number of Resorts offering all-inclusive packages. The main advantage of that is that the group knows in advance what the holiday is going to cost and can budget accordingly. Read more
Hints + Tips - To make your society outing go smoothly
Be wary of slow play - One of the biggest issues in golf right now is slow play. It's become a more common problem on tours worldwide, with more and more prominent players taking to Twitter to vent their frustrations at the number of slow players playing worldwide. "Slow play is killing our sport," said former world No.1 Luke Donald earlier this year on Twitter. Read more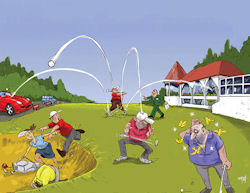 It's time to Take Care
Get yourself protected with specialist golf insurance
Let's face facts: by becoming a member of a golf society, you are probably going to play golf pretty regularly. Whilst that's great, it does also heighten the risk of you being involved in an accident of some description, whether it's hitting a fellow player with an errant shot, cannoning one through the window of an adjacent property, or even having your clubs stolen.
What's the one thing all of those examples have in common? Simple: they'll hit you where it hurts - your wallet. They don't need to, however. Not if you take out adequate golf insurance.
For the price of buttons, you can cover yourself against any of the many things that can go wrong on the golf course, giving you the peace of mind to concentrate on having fun with your society mates. Read more
The Process of Booking a Golf Break
You are sat around the club house looking at the rain coming down and thinking it would be a good idea to get away from the wet and mud out on the course and instead play in the sunshine and the dry. You mention it to a few of your friends and pretty soon you have a number of people saying they would be interessted in going and you have volunteered to sort it out.
That's how most golf holidays get started and it only takes a short period of time for you to realise life isn't so simple and there is a bit... Read more