Golf Societies Articles
How to Celebrate your Society Outing in Style
HIRE THE PRO - Clinics with PGA professionals are popular during corporate golf days so why not make use of the club pro during your society break and organise a clinic? The pro can either offer a group lesson (depending on the size of your group) or simply run through a variety of tips that might help some of the players in your crowd. Some PGA pros also provide trick shot shows, however you can also hire a trick shot master for your society day - that's always a fun way to start your weekend. You should expect to pay anywhere between £500 and £1,000 for the services of a trick shot specialist. Prices for a group lesson with a PGA pro can vary.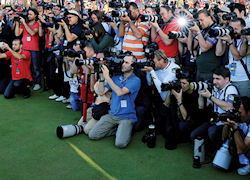 CAMERAMAN - Keep the memories of your trip for a lifetime by hiring a photographer to take professional on-course shots or, even better, take a cameraman with you to record the day's events. There's nothing quite like all sitting down with a cold beer and watching back your society golf trip of the year which, naturally, must include a 'Worst Shots of the Weekend' compilation. Anything that generates a laugh is worth doing.
BRANDING - If you're running a Ryder Cup-style competition, then try and bag yourself some specially branded golf balls to hand out to respective team members on he day. Titleist, maker of the No.1 ball in golf, offers this service and it's extremely popular for good reason. Just imagine it's Scotland versus England and all golf balls are either marked with a Saltire or an English rose...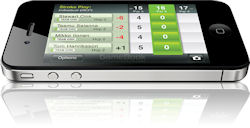 SCORING - Keep up-to-date with the scores of your fellow society members during your round by making sure all competitors update an online scoring app after every hole. Some apps cost money and offer a variety of features, but some are free, such as Golf GameBook, which even has in-built social media functions allowing you to rib your mate when he three putts the 14th from five feet.
AFTER DINNER SPEAKER - If you're a large group, ask the hotel for access to a function room for your dinner on the last night… then hire an after dinner speaker to keep you all entertained. Whether you want to go down the 'safe' route and keep things clean, or go for a spit and sawdust pub comedian, it's entirely up to you. You can expect to pay anything between £150 and £400.
GREEN JACKET - Cheesy and predictable, that much is given - but it works every time. Give the winner of your individual strokeplay society competition the ultimate prize - a green jacket. Of course, you can't buy the real thing, but a quick look on eBay and you'll find something close enough. If not, ask your local tailor to make one and worry about sizing later!
Golf Societies Article List
How to Celebrate your Society Outing in Style
What Board to Choose When Going on a Golfing Holiday With Your Society
Hints + Tips - To make your society outing go smoothly
Get yourself protected with specialist golf insurance
The Process of Booking a Golf Break