Golf Societies Articles
It's time to Take Care
Get yourself protected with specialist golf insurance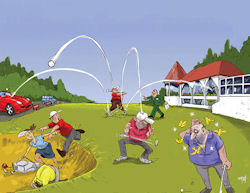 Let's face facts: by becoming a member of a golf society, you are probably going to play golf pretty regularly. Whilst that's great, it does also heighten the risk of you being involved in an accident of some description, whether it's hitting a fellow player with an errant shot, cannoning one through the window of an adjacent property, or even having your clubs stolen.
What's the one thing all of those examples have in common? Simple: they'll hit you where it hurts - your wallet. They don't need to, however. Not if you take out adequate golf insurance. For the price of buttons, you can cover yourself against any of the many things that can go wrong on the golf course, giving you the peace of mind to concentrate on having fun with your society mates.
Of course, we all know how hard it can be to find the right insurer but, when it comes to golf, there's only one contender: Golf Care.
With over a decade's experience in providing specialist, comprehensive cover to tens of thousands of golfers, Golf Care will ensure you're insured against all eventualities: personal liability, personal accidents, third-party property damage, equipment cover, worldwide cover, and even the cost of your round at the bar if you have a hole-in-one.
Managing director John Woosey explains why it's so important to get cover if you are going to be a golf club member. "We live in an increasingly litigious society," he explained. "People are more aware of the dangers that exist on the course and the impact an injury could, therefore, have on their everyday life. As a result, we've seen golfers of all ability, age and gender, taking out specialist golf insurance so they're protected."
Former Ryder Cup-winning captain Bernard Gallacher is a Golf Care ambassador and added: "I think it is imperative that people should seek out a golf insurance policy. I've been hit multiple times and it's quite frightening to think your next shot could literally cost you a fortune."
CASE FOR THE DEFENCE
In the process of reversing a buggy, a golfer runs over his playing partner's leg, causing ligament damage. Claimed under 'personal liability' for £12,000.
Golfer puts his golf clubs in the boot of his car after a round, along with trolley, and locks car. Player goes into clubhouse, returns an hour later to find car has been broken into and all his golf gear is gone. Claimed under 'theft' for £2,000.
A golfer tries to pull a club out of his bag but can't because it is wedged in. He keeps pulling until the club comes flying out, hits him in the mouth and chips his teeth. Claimed under 'dental' for £350
A golfer shanks one into a conservatory in a neighbouring house. Claimed under 'third party property damage' for £700.
Golf Societies Article List
How to Celebrate your Society Outing in Style
What Board to Choose When Going on a Golfing Holiday With Your Society
Hints + Tips - To make your society outing go smoothly
Get yourself protected with specialist golf insurance
The Process of Booking a Golf Break