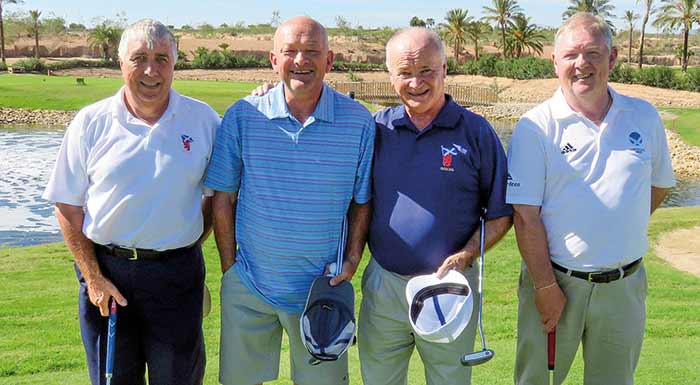 First ten years of senior society an 'overwhelming success'
The Scottish Seniors Golf Society has grown from six golfers to more than 300 since its formation
One of the largest golf societies in the UK has been hailed as it looks to attract even more members to ensure it continues to go from strength to strength.
The Scottish Seniors Golf Society was formed in late 2006 with the aim of meeting the demand for high-level competition for amateur golfers over the age of 50.
It was the brainchild of Gordon MacDonald – a European Senior Tour pro for five years – and, from starting with just six golfers, it now boasts more than 300 active members.
The eight 36-hole events on the schedule – one in each Area Association – comprise anywhere from 100-140 players and are ultra-competitive, with a handicap limit of 9.4 and players including MacDonald and past Walker Cup players Ian Hutcheon, Scott MacDonald and Sandy Pirie.
As a result, the society has become so prominent that Scottish Golf uses its Order of Merit to help with team selection for the Seniors Home Internationals – but vice-captain Drew Wilson is keen to dispel some myths about the society and promote its competitive and social benefits.
"We're pretty successful but a lot of people don't think they're allowed to play in an event," he told UK Club Golfer. "That's not the case. Everybody can play in one event without being a society member."
"We don't want to seem like we're elitist. Yes, the standard is high with relatively low handicap limits but it's more about going out and having a bit of banter and sitting down to meals on a Thursday night with six or eight like-minded guys between the two rounds.
"The camaraderie among us is magnificent. We're all socially involved whereas before you just stuck to your own club."
With the founding members of the SSGS now into their 60s and 70s, the society recently introduced a four-event Super Seniors series for those aged over 65 and with a handicap of 15 or less in order to offer competitive golf for those who felt they couldn't compete with those in their early 50s.
"If members felt they couldn't compete, then they'd likely stop playing altogether," continued Wilson. "That's why we created the Super Seniors. Like the regular events, there are prizes and it's more of a competitive environment for them to keep them interested.
"The first ten years of the SSGS have been an overwhelming success, building up from a handful to more than 300 members and, over the next ten years, I can't see anything other than its continued evolution."
Golf Societies Article List
How to Celebrate your Society Outing in Style
What Board to Choose When Going on a Golfing Holiday With Your Society
Hints + Tips - To make your society outing go smoothly
Get yourself protected with specialist golf insurance
The Process of Booking a Golf Breaks